Good morning, With the pending winter weather warning and forecast of significant snow for our area, the Madison Central School District has cancelled in person school today, and we will have a remote learning day today, Friday, December 10, 2021. Again, today will be a remote learning day. Elementary students have work packets in place and Middle School and High School students have online learning. Thank you and have a good day!

Good afternoon, The Elementary Building moves back to LEVEL I tomorrow, Wednesday, December 8, 2021. Face coverings are not required while in LEVEL I. Thank you , parents, students, and staff, for your help while at Level II.
Good afternoon, As per MCSD Back to School plan - we are now over 1.5% of active Covid-19 cases in the elementary. The Elementary will now be at LEVEL II starting tomorrow, Thursday, December 2, 2021. Face coverings will be required in the Elementary Building Only. Once we drop below 1% of active cases we will then move back to LEVEL 1. Thank you for your continued help in this matter!

Reminder: Tomorrow, Wednesday, December 1st is a scheduled calendar Early Release for Madison Central School District teacher in-service. Elem. Dismissal @ 12:45pm and MS/HS @ 1:00pm. Thank you and have a good evening!

Good Morning, With the current road and weather conditions, and the already scheduled early dismissal, a 2 hour late start is not an option. So, school has been cancelled for today, November 12, 2021, at Madison Central School District. Again, school has been cancelled for today, November 12, 2021, for the Madison Central School District. Thank you and have a good day

Anyone interested in purchasing tickets to Friday's 11A Football Championship Game between Madison and Milbank, please see the attached image. The game is scheduled to start at 2:00pm at the Dakota Dome in Vermillion.

Good morning, With the Madison Football Team playing in the State 11A Championship Friday November 12th at 2 pm, and the inability for us to have enough substitutes to cover classrooms for that afternoon. We will have an early release on Friday, November 12th with the Elementary dismissing at 11:20 am and MS/HS dismissing at 11:25 am. Lunch will be provided prior to dismissal. Thank you and have a great weekend!

Just a reminder to anyone planning to attend tonight's 11A Quarterfinal Football game between Madison and Sioux Falls Christian in Madison - NO PASSES ARE ACCEPTED FOR POSTSEASON GAMES. Ticket prices are $7 for adults and $5 for students. Please enter through the south gate.

A message is from Supt. Jorgenson. We were contacted by Law Enforcement to activate a perimeter secure for the MES a few minutes ago because of an issue that was taking place with law enforcement. The situation was not a school related situation. In preparing this message to send out, we were already contacted that we no longer needed to be in perimeter secure. Thank you and please know that the safety of our students will always be our top priority!

Madison Central School District Child Find Preschool Screening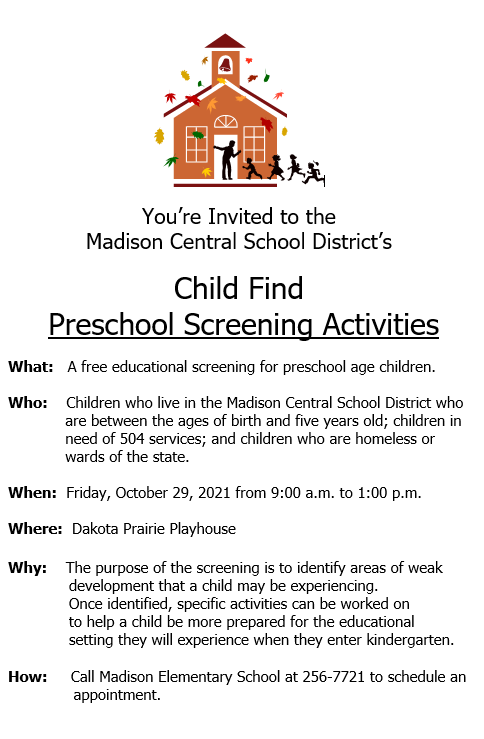 Just a reminder that the Varsity football game against West Central is TONIGHT (Thursday) instead of Friday. Also note that the start time for tonight's game is 7:30 instead of the normal 7:00 start time due to West Central also having a volleyball contest tonight.

Reminder: September 30th there is no school for students in the Madison School District so that Parent/Teacher Conferences can be held from 9:00 am-5:00 pm. Thanks and have a great evening!

The Cross Country meet scheduled for today in Bon Homme has been POSTPONED because of the rain and poor course conditions. We are looking for possible make-up dates at this time.

The Dak XII Golf Meet scheduled to be played today in Madison has been POSTPONED until tomorrow (Tuesday) in Madison. The scheduled start time for tomorrow is 9:00am.

Just a reminder that tonight's high school volleyball matches against Vermillion start 30 minutes earlier than normal. The C-match is scheduled to start at 4:30, JV at 5:45, & varsity at 7:00. Please plan accordingly.

The 7th & 8th football games against Sioux Falls Christian scheduled for today have been POSTPONED. We will work to try and find a make-up date.

Both the varsity tennis triangular at Brookings and JV golf invite at Parkston that were scheduled for today have been POSTPONED! We will try to make these up if we can find a date.

REMINDER: Student registration runs today (August 4th) until 7 pm and tomorrow, Thursday (August 5th) from 1 PM to 7 PM. Registration is held in the MS/HS Cafeteria. Please use the North parking lot and use the main gym entrance. Thanks and have a great day!

This is a reminder to parents of any student planning on participating in marching band or any athletic sport for the 2021-22 school year that you need to have a physical (and other forms) on file in the high school office before you can participate in any practice and/or event. All of the necessary forms can be found at the following website:
https://www.madison.k12.sd.us/o/madison-central-school-district/browse/44571
. Contact Mr. Ricke in the high school office (256-7706) if you have any questions.