The start time for tonight's Madison vs. Flandreau boys basketball game has been PUSHED BACK TO 5:30 (was 5:00). The c-team will play just 2 quarters at 5:30, JV will play a full game at 6:15 and varsity should start at approximately 7:30.

The Madison vs. Vermillion gymnastics meet for tonight WILL BE A 5:30 START TIME (was originally 6:00). The Madison vs. Dell Rapids wrestling meet tonight WILL START AT 7:00 (was originally 6:30). Also, with the current Covid-19 numbers at Madison High School, we STRONGLY ENCOURAGE everyone to wear masks at all MHS home events.

Good evening, The Madison Central School District, Saint Thomas School and Madison Christian will have a 2 hour late start tomorrow, Thursday, January 6th. With the current cold weather and low wind chills, we will start 2 hours late. All morning practices are cancelled. Thank you and have a good evening!
Good morning, We will have a 2 hour late start this morning, Wednesday, January 5th, and any morning practices are cancelled. Have a good day!

Good afternoon, This following information was shared with schools today from the AASA. (American Association of School Administrators) Today, we were made aware of a troubling post that has been shared widely this week on the social media platform TikTok. The post refers to a threat to school safety "for every school in the USA, even elementary," on Friday, December 17. The post appears to be part of a national TikTok trend and did not originate in our school district. We have heard reports from other districts that the same post is circulating in their schools. We do not believe the threat to be credible, however, we are closely monitoring the situation and taking it very seriously. Additionally, the Madison Police Department will have an increased police presence in and around our buildings on Friday as an added precaution. This situation serves as a good example of why it is important to avoid sharing posts online that refer to school safety threats. Even if they are not credible threats, they can cause a great deal of stress and anxiety for our students, families, and staff. We ask our families to monitor their children's social media activity and speak with them about proper behavior online. Any threat made to a school is a crime and will be investigated and prosecuted to the fullest extent of the law. If you or your child become aware of any potential threat posted to social media or anywhere else, please notify a school staff member or trusted adult immediately. As always, thank you for your partnership as we work to ensure a safe, secure, and positive learning environment for our students. Supt. Joel Jorgenson, Police Chief Justin Meyer, SRO Ben Gant

The Middle School Wrestling meet in Brookings on Saturday HAS BEEN CANCELLED. Also, the 7th & 8th grade Dak XII GBB Tournaments in West Central and Tri-Valley on Saturday HAVE BEEN CANCELLED.

The MHS Winter Band and Choir concert scheduled for tonight has been POSTPONED. This event will now be held on Friday, December 17th at 4:00 pm in the High School Auditorium. Please note the earlier start time!

Good morning, With the pending winter weather warning and forecast of significant snow for our area, the Madison Central School District has cancelled in person school today, and we will have a remote learning day today, Friday, December 10, 2021. Again, today will be a remote learning day. Elementary students have work packets in place and Middle School and High School students have online learning. Thank you and have a good day!

Good afternoon, The Elementary Building moves back to LEVEL I tomorrow, Wednesday, December 8, 2021. Face coverings are not required while in LEVEL I. Thank you , parents, students, and staff, for your help while at Level II.
Good afternoon, As per MCSD Back to School plan - we are now over 1.5% of active Covid-19 cases in the elementary. The Elementary will now be at LEVEL II starting tomorrow, Thursday, December 2, 2021. Face coverings will be required in the Elementary Building Only. Once we drop below 1% of active cases we will then move back to LEVEL 1. Thank you for your continued help in this matter!

Reminder: Tomorrow, Wednesday, December 1st is a scheduled calendar Early Release for Madison Central School District teacher in-service. Elem. Dismissal @ 12:45pm and MS/HS @ 1:00pm. Thank you and have a good evening!

Good Morning, With the current road and weather conditions, and the already scheduled early dismissal, a 2 hour late start is not an option. So, school has been cancelled for today, November 12, 2021, at Madison Central School District. Again, school has been cancelled for today, November 12, 2021, for the Madison Central School District. Thank you and have a good day

Anyone interested in purchasing tickets to Friday's 11A Football Championship Game between Madison and Milbank, please see the attached image. The game is scheduled to start at 2:00pm at the Dakota Dome in Vermillion.

Good morning, With the Madison Football Team playing in the State 11A Championship Friday November 12th at 2 pm, and the inability for us to have enough substitutes to cover classrooms for that afternoon. We will have an early release on Friday, November 12th with the Elementary dismissing at 11:20 am and MS/HS dismissing at 11:25 am. Lunch will be provided prior to dismissal. Thank you and have a great weekend!

Just a reminder to anyone planning to attend tonight's 11A Quarterfinal Football game between Madison and Sioux Falls Christian in Madison - NO PASSES ARE ACCEPTED FOR POSTSEASON GAMES. Ticket prices are $7 for adults and $5 for students. Please enter through the south gate.

A message is from Supt. Jorgenson. We were contacted by Law Enforcement to activate a perimeter secure for the MES a few minutes ago because of an issue that was taking place with law enforcement. The situation was not a school related situation. In preparing this message to send out, we were already contacted that we no longer needed to be in perimeter secure. Thank you and please know that the safety of our students will always be our top priority!

Madison Central School District Child Find Preschool Screening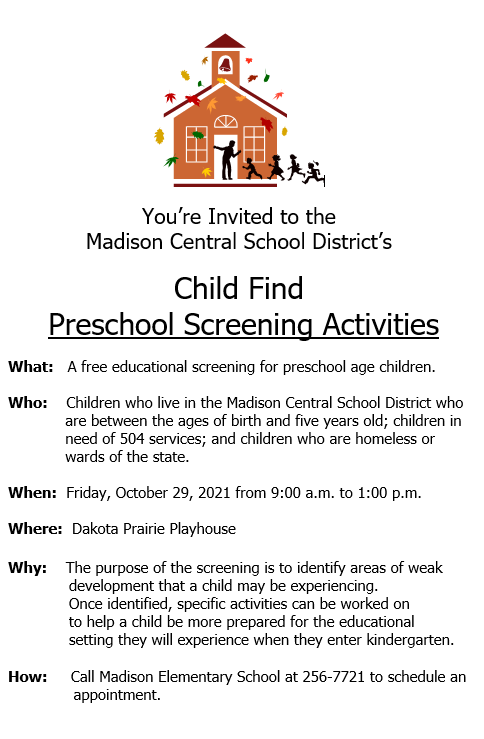 Just a reminder that the Varsity football game against West Central is TONIGHT (Thursday) instead of Friday. Also note that the start time for tonight's game is 7:30 instead of the normal 7:00 start time due to West Central also having a volleyball contest tonight.

Reminder: September 30th there is no school for students in the Madison School District so that Parent/Teacher Conferences can be held from 9:00 am-5:00 pm. Thanks and have a great evening!