The Lady Bulldogs picked up a 56-30 win over Britton-Hecla in the DAKXII vs. NEC Conference Clash on Saturday. Congrats to Kendra Leighton for being named player of the game! #BulldogNation 🐾🏀

Good luck to the One Act play today in Aberdeen at the State Meet. We're proud of you!! #BulldogNation 🐾🎭

The MDHL trip to Pierre scheduled for tomorrow, January 29th, 2019 has been cancelled due to the extremely cold temperatures. #BulldogNation

We are proud to announce the release of our brand-new App. Find us on the iOS App Store and Google Play Store! It's Everything Madison, in your pocket.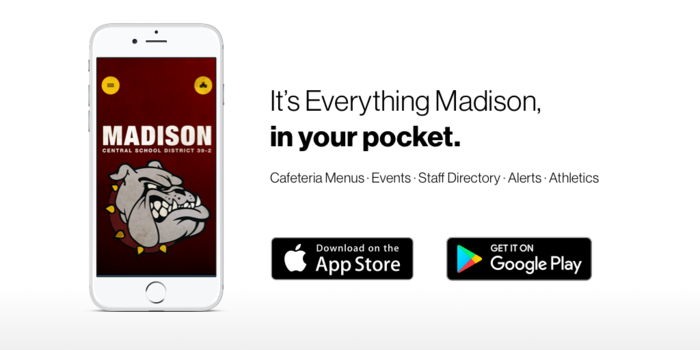 The Boys Basketball Team will face off against Worthington in the High School Main Gym to open the DAK-XII vs. NEC Conference Clash on Saturday January 26th at 10:00 am. Come on out and support the Bulldogs!

The Madison High School Theater Department proudly presents the 2018-2019 One Act Play: The Marvelous Playbill. The play will take place Sunday, January 20th at 7:00 pm in the High School Auditorium.