Madison Central School District Child Find Preschool Screening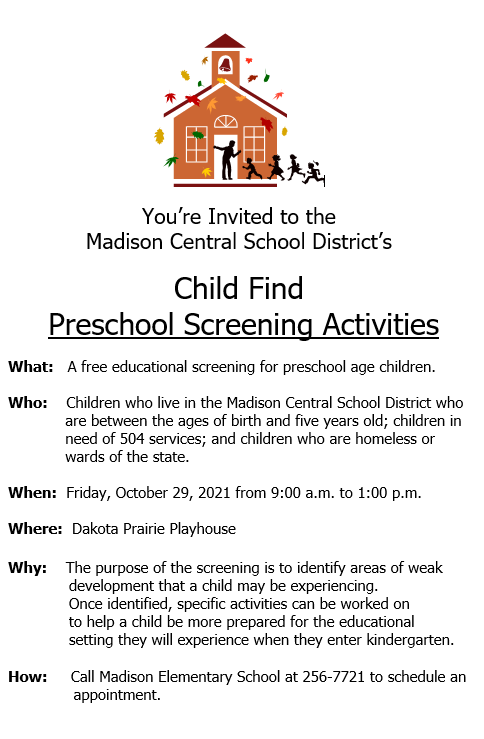 Reminder: September 30th there is no school for students in the Madison School District so that Parent/Teacher Conferences can be held from 9:00 am-5:00 pm. Thanks and have a great evening!

REMINDER: Student registration runs today (August 4th) until 7 pm and tomorrow, Thursday (August 5th) from 1 PM to 7 PM. Registration is held in the MS/HS Cafeteria. Please use the North parking lot and use the main gym entrance. Thanks and have a great day!

Madison Central is accepting applications for the following positions: Full or part-time Seasonal Grounds Keeper, Full-time Custodian, Assistant Dir. of Maintenance and various Coaching positions. Details can be found at
https://madisoncentral.tedk12.com/hire/index.aspx
.

FREE lunches M-T-W-TH from 11:20-12:20 for all children 18 and under starting June 1. Hot meals and sack lunches are provided on-site or the sack lunch can be taken off-site. On Thurday an extra sack lunch can be picked up for Friday. Madison Elementary School (700 NW 9th St.)

Good morning - Reminder - Last day of school today - Early Release for the Madison Central School District. Elementary dismissal at 12:45 pm and MS/HS at 1:00 pm. Thank you and have a GREAT SUMMER!

Good afternoon, Reminder: Tomorrow, Wednesday, May 5th is a scheduled Early Release for the Madison Central School District. Elementary dismissal at 12:45 pm and MS/HS at 1:00 pm. Thank you and have a good day!

Reminder: Parent Teacher "Zoom Conferences" will be held today and tomorrow at previously scheduled times between 4 pm & 7 pm. Thanks and have a great day!

Because of the severe cold expected this evening, all high school basketball games (boys & girls) vs. Canton will be moved up one hour: - 12:00 freshman boys - 1:00 JV girls (MS) - 1:15 JV boys - 2:30 Varsity Girls - 3:00 Varsity Boys Please plan accordingly and stay safe!!

Tonight's MHS Volleyball match @ Flandreau will have limited attendance. Each VB participant received 4 tickets to distribute. Only adults with a 'ticket' will be allowed to enter the school - ticket holders still need to pay admission. - All HIGH SCHOOL students can attend without a ticket as long as they have a valid student ID. - Masks are REQUIRED at all times. No one will be admitted without a mask. - Matches will be livestreamed at
http://fliers.liveticket.tv/

District Wide Student Registration for August 4th & 5th has been canceled. Packets with forms and instructions will be mailed out later the week of July 27, 2020.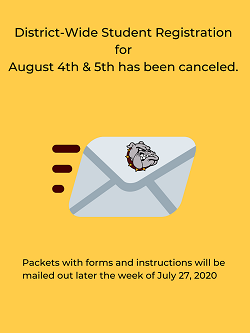 6/8/2020 - High School Site - Lunch distribution CHANGE! Lunches at the high school site will be moved to the NORTH side of the school for this week because of parking lot work on the south side. Again Lunches at this site will be served from the NORTH parking lot. Thanks!

School Sack Lunch - SCHEDULE CHANGE for next week. No sack lunch on Monday 25th (Holiday), Schedule for next week is Tuesday 26th, Wednesday 27th and Friday 29th. Have a great day and weekend!
5/20/2020 - School Sack Lunches WILL CONTINUE through the summer at the current sites and current days of Monday, Wednesday & Friday unless otherwise notified of a site or date change. Thank you and have a great day!
REMINDER: Computer and charger check in is in progress today and tomorrow at the Elementary, MS & HS from 7:30 am to 5:00 pm. Elementary North Gym door, MS South MS Entrance & HS Main Gym entrance. Thanks and have a great day!
5/17/20 REMINDER: CELEBRATE MHS GRADUATING CLASS of 2020! Senior video link goes live TODAY @ 1 pm and the Virtual Graduation Ceremony @ 2 pm. Video links can be accessed from the home page of the district website @ Madison.k12.sd.us - Follow the "2020 Virtual Graduation" link.
Copy of computer and misc. check in email info. Have a great day!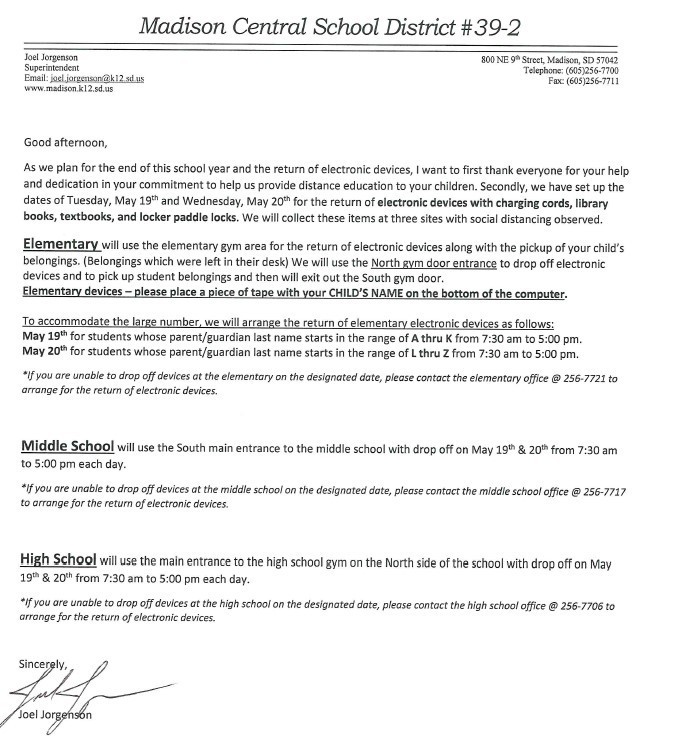 5/11/2020 -Computer/misc. items. May 19 & 20. An email was sent to parents with information on the Jr. K through 11th grade check in process for computers, charging cords, library books, text books and locker paddle locks. Please check your email for this information. Thank you!
5/7/2020 Educators Appreciation Parade - Thank you to the Fire, Police & Sheriff Depts., along with all the students, parents and community members for your outpouring of support for our Madison Central Education Team! Your support is GREATLY appreciated! Thank You & Go Bulldogs!