Congrats to Head Coach Chris Waba! He was selected as the Region 1A coach of the year!! #BulldogNation 🐾👍🏻

Congrats to the 10 wrestlers who qualified for the State Meet in Rapid City next weekend. The 10 are Isaac, Truman, Sam, AJ, Colby, Nolan, Spencer, Daniel, Alex, and Brandon. #BulldogNation 🐾🤼‍♂️

Auditions for the MHS Spring Play are today and tomorrow at 3:30 in the Auditorium! Students who are auditioning must have a signed commitment contract with them before auditioning.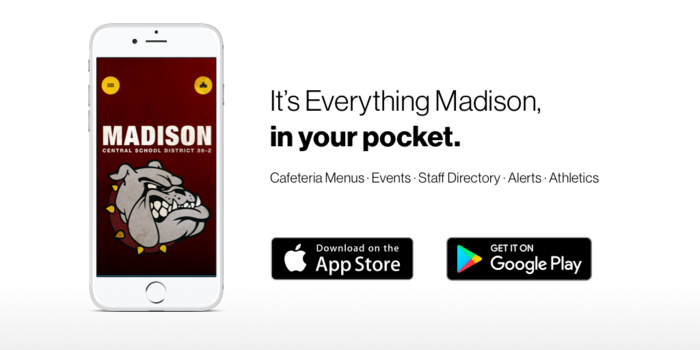 Monday, February 11th, 2019 will be a B day. Looking forward to see everyone in the morning! #BulldogNation 🐾


Good luck to the Lady Bulldog Gymnasts today and tomorrow in Brookings at the State Meet. Opening ceremonies start at 10:45am. #BulldogNation 🐾🤸🏼‍♀️

With the two hour late start on Friday, February 8th, 2019, we will start with 1st block at 10:15am. Everyone drive careful. #BulldogNation 🐾

We will be running a normal B Friday tomorrow, February 8th, 2019. There will not be Study Table. Students must report at 8:15am for school. #BulldogNation 🐾

Great day of teacher in-service! We were able to have some technology training and began to look at the schedule for 2019-2020. Thanks to the MHS staff for the great discussions!! #BulldogNation 🐾

ASVAB testing for MHS students will be Monday the 11th.

We're thrilled to announce Madison Central School District's new app! Access cafeteria menus, activities calendar, news updates, notifications, and much more all on your phone. Download the app now! Android:
http://bit.ly/2T1Oy6W
iPhone:
https://apple.co/2EqGvfX
.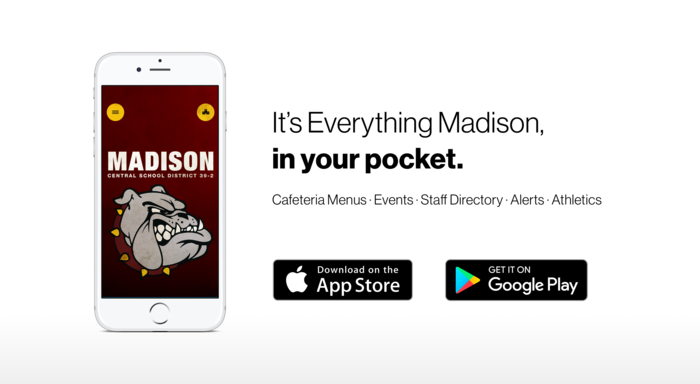 Congratulations to the MHS One Act. They finished the State competition with a Superior award for the Marvelous Playbill and brought home 10 individual awards as well. #BulldogNation 🐾🎭

The Boy's Basketball team defeated Sioux City North by a score of 80-62 at the Sanford Pentagon on Saturday. Five Bulldogs were in double digits, led by Caileb Reilly with 21.

The Lady Bulldogs picked up a 56-30 win over Britton-Hecla in the DAKXII vs. NEC Conference Clash on Saturday. Congrats to Kendra Leighton for being named player of the game! #BulldogNation 🐾🏀

Good luck to the One Act play today in Aberdeen at the State Meet. We're proud of you!! #BulldogNation 🐾🎭

The MDHL trip to Pierre scheduled for tomorrow, January 29th, 2019 has been cancelled due to the extremely cold temperatures. #BulldogNation