Please click the Grade Level below for Learning Boards and resource links
AUTHENTICATING TO MCSD PROXY
If you are seeing the following screen on your Chromebook, follow the steps below.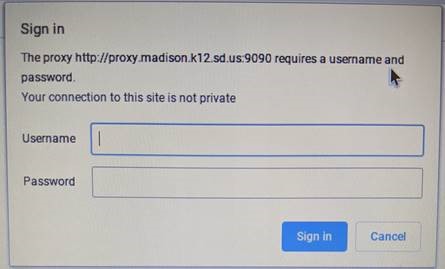 IMPORTANT: Click the refresh button at the top of the screen if the box keeps closing before you can enter your information.
Step 1: Have your student enter their K-12 username and password into the dialog box and then click Sign in.
Step 2: Make sure they are using their username not their full email. (ex. jf8450) Their username is their initials with four numbers.
Step 3: Once you click Sign in the Chromebook should be good to go. This will have to be done whenever the Chromebook is started.