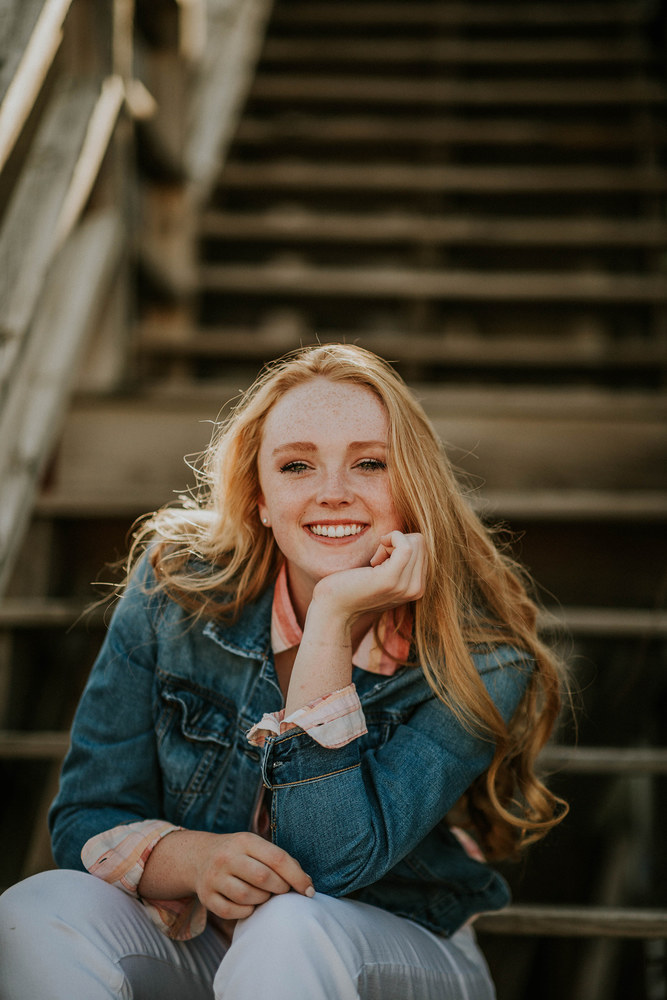 Senior Spotlight: Grace Nelson
by: Hannah LeMair
Tuesday, December 03, 2019
Eighteen year-old Grace Ann Nelson has been a strong leader for Madison High School's class of 2020 for years, and as the current student body president, it shows! Grace herself was the one who started Madison's chapter of the Fellowship of Christian Athletes, and enjoys leadership positions in student organizations such as Student Council and our very own Maroon. Throughout high school and senior year, she has been involved in a variety of extracurriculars including FFA, Student Council, the Maroon, FBLA, debate, Basketball, Volleyball, FCA, and Souled Out. Naturally, with so many activities, Grace's organizational skills greatly come in handy. Without a planner, she explains that her life "would be a train wreck."
The oldest daughter of Steve and Deb Nelson, Grace finds that many of her personality quirks come from her close relationship with her family, particularly her younger sisters, Audrey and Lydia. From playing volleyball, to doing homework, to working out, the sisters do just about everything together. One time they even watched the entirety of the Netflix TV show, Mako Mermaids together…….in just 4 days. "It was intense," Grace admits. Mermaid marathons aside, Grace had quite the whimsical inclination even before her sisters came along. As a kid, Grace wore dresses pretty much everyday until she was five. Her favorite movies were the Little Mermaid and Ice Age, which she would watch on a loop from about the ages of four to fifteen. And her sense of humor was unmatched, as she even went so far as to dress up as her cousin for Halloween one year.
In school, Grace's favorite classes are history classes, especially American History. As far as extracurriculars go though, one of Grace's proudest high school memories is the recent volleyball regions final game against Wagner. In her words, "I could feel the dreams I have had since my childhood coming true." When she's not at school or rocking the Volleyball court, Grace enjoys scrap booking, watching movies, being outdoors, spending time with her friends, and just living life, because as she simply puts it, "Life is great."
Speaking of movies, did you know her favorite movie is Pride and Prejudice? You'd never have guessed by how excited she was to watch it in A.P. Lit. last year! Main character Elizabeth Bennet is who Grace imagines she'd play in a movie if she could. She admires Lizzy's certainty of self and how she's not afraid of doing what's right. Movies and popcorn go hand in hand, so it is only natural that Grace's favorite food is popcorn. She sometimes likes other foods. But only sometimes.
Grace's strong values are something that drives her forward in life. To quote, "I generally live by the idea of being kind to everyone no matter what. I additionally live by the philosophy of going the extra mile to show someone you care. Doing works not for yourself, but for the glorification of the Lord."
After high school, Grace plans on studying Political Science and Economics with a minor in religious studies and history. She's not quite sure where she wants to end up after college, but she's pretty sure it will be in the midwest. Grace has left her mark in many places at MHS, but what Grace says she'll miss the most about high school is being able to spend time with her family. Certainly MHS will miss Grace's leadership and positive attitude once the fall of 2020 rolls around, but will be cheering her on in the bright future she has ahead of her.